Super Affiliate Handbook - Affiliate Program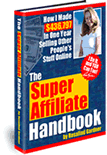 Thank you for your interest in promoting the Super Affiliate Handbook (SAH).
The program pays 50% of $27.00 (minus Clickbank fees) - an easy sell in today's tough economy.
Subscribe to Receive Updates
Subscribe to the SAH Affiliate newsletter for IMPORTANT tips, promotion and CONTEST announcements. , please do so now using the signup form to the right. After signing up, please check your email to confirm your subscription to the SAH Affiliate newsletter. Please NOTE: Participation requires compliance with the program terms & conditions .
Signup with Clickbank
To join our affiliate program, you must create a ClickBank account and get your ClickBank "nickname". It is totally FREE and takes about one minute to join. After you have your code you can return to this page and choose from the various marketing tools I've made to help you bring in more clicks and more sales.
Click Here To Open Your ClickBank Account!
Everything You Need to Start Making Money Today...
Rosalind's Affiliate Tip #1
My best affiliates (those who convert at 6% and higher) have actually READ the "Super Affiliate Handbook". They know the strong selling points of the product and can endorse it without hesitation.

Have YOU read it? If you want to sell more of EVERYTHING you promote as an affiliate.,, Get it NOW!
Now... get out there and Promote and Prosper!
Cheers,